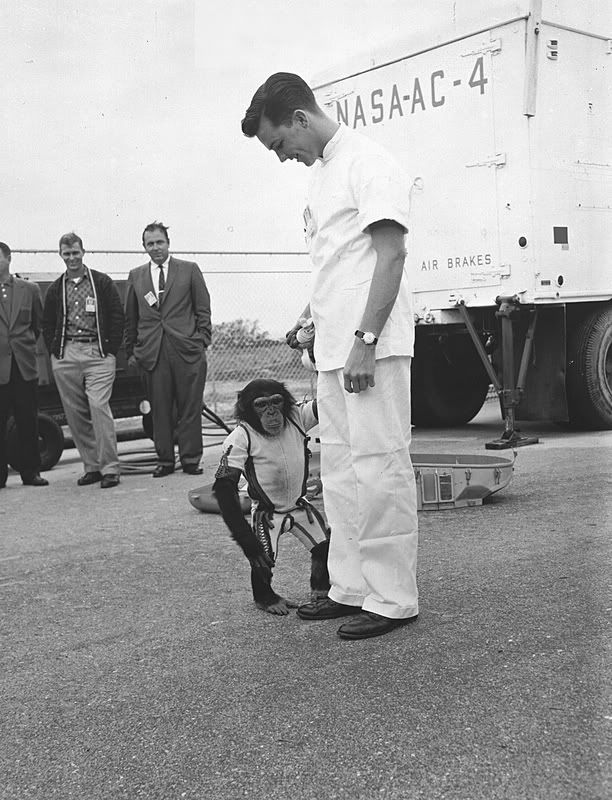 Ham, the first chimpanzee ever to ride into space is shown off by his animal trainer on January 31, 1961, at Cape Canaveral, Florida.
Ham was brought from the French Camaroons, West Africa, where he was born July 1957, to Holloman Air Force Base in New Mexico in 1959.
On January 31, 1961, Ham, whose name was an acronym for
H
olloman
A
ero
M
ed, became the first chimpanzee in space, aboard the Mercury Redstone rocket on a sub-orbital flight.
The spacecraft carrying Ham reached an altitude of 157 miles and a speed of 5857 mph. Ham performed well during his flight and splashed down in the Atlantic Ocean 60 miles from the recovery ship. He experienced a total of 6.6 minutes of weightlessness during a 16.5-minute flight.
Ham was placed on display at the Washington Zoo in 1963 where he lived alone until September 25, 1980. He then was moved to the North Carolina Zoological Park in Asheboro. Upon his death on January 17, 1983, Ham's body was preserved and loaned by the Smithsonian Institution to the International Space Hall of Fame in Alamogordo, New Mexico.
Source:
NASA