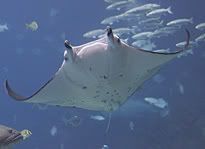 The Georgia Aquarium is now home to the only manta ray on exhibit in the United States. The ray, named Nandi, was rescued from shark nets along the South African coast last year.
Most aquariums can't house a manta ray because of how large the animal gets -- up to 26 feet across and weighing about 6,000 pounds. The graceful animal is the largest of the rays.
But the Georgia Aquarium's 6.3 million-gallon salt water exhibit has plenty room for Nandi, who is about 9 feet from the tip of 1 wing to the other and still growing.
Aquarium spokesman Dave Santucci said Nandi had outgrown her home in South Africa, and the Georgia Aquarium jumped at the rare chance to exhibit a manta ray.
Nandi was released into the aquarium's enormous Ocean Voyager tank on Friday and has her official public debut today.
Manta rays are listed as a threatened species. The mammoth diamond-shaped animal has a black top and white bottom with wings that move gracefully up and down as they swim through the water.
Just three other countries house manta rays at aquariums: Japan, Spain and the Bahamas.
Source:
Live5News.com
Photo credit: John Bazemore / AP