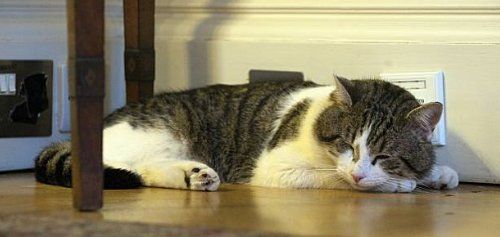 The news of Larry's arrival at 10 Downing Street had reached the rodent community just after midday.
In the sewers beneath Westminster, along the rat-runs that criss-cross the Number 10 lawn, and in every dark corner of the corridors of power, it set tiny hearts a-beating.
Downing Street had a new cat. Not just any cat, either.
This was the one they called the rat-catcher. And from the moment Larry the white-and-tabby tom crossed the threshold, it was probably a bad day to be vermin.
Nothing is known about Larry's past, save that he is aged about four and was rescued early in January after apparently living rough. He was taken to Battersea Dogs and Cats Home, neutered, and nursed back to fine fettle by its rehoming team.
When Downing Street asked for a suitably friendly cat to deal with rats scurrying about in the buildings and on live TV broadcasts, the home volunteered Larry.
David Cameron gave a warm welcome to the four-year-old feline – who promptly fell asleep on a sofa rather than getting to work tackling the rat infestation.
Source
Read about other famous cats
Photo: Mark Large / Getty Images