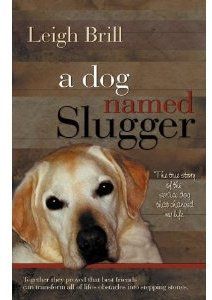 A Dog Named Slugger
by Leigh Brill, is a true story about a woman who, at the height of her Cerebral Palsy symptoms, turned to a service dog organization where she was matched with Slugger, a highly intelligent, devoted and loving Yellow Labrador.
The book is heart-warming and inspiring, but it also promotes a very worthy cause--the Service Dog Industry. Leigh's proceeds from the book will go to the nonprofit
St. Francis Service Dogs
organization.
On a personal note - - I've had a copy of this book for a few months, and had it by my bedside, knowing that I would soon have lots of time to do nothing but reading.
I recently had surgery for total knee replacement on my left knee! While what I went through was nowhere close to Leigh's needs and the restrictions which go along with Cerebral Palsy, but living in a four-level house made me very quickly understand how nice a four-legged helper would be. It never failed that whatever I needed was in the wrong part of the house. Opening doors holding onto a walker in front of me, or while holding a cane in one hand and other supplies in the other, really brought home to me what a huge help Slugger's presence must have been to Leigh.
I really enjoyed getting to know Leigh by reading her book, and fell in love with the playful, but hardworking Slugger, and his protege Kenda. My only criticism is that there weren't enough pictures! I would have loved to see more photos of these new friends.
If you'd like to know more, visit the website:
Leigh Brill
or Facebook page,
A Dog Named Slugger
.